.
Expedition to Madagascar 2015
March 22 / April 20
Jacky Duruisseau
(Photos by C. Bridon, E. Bouquet et J. Duruisseau)
Let's go ! We are going to Madagascar for the third time.
There are three of us this time : Evelyne Bouquet (in charge of the begonias greenhouse at the Lyon Botanical Garden), Colette and I.
The schedule is ambitious (too much ? ) : the Ankarana massif in the north, the Marojejy massif in the east, the Makira forest in the west side of the Antongil Bay and the Masoala peninsula on the east side of that bay. We had already visited these areas in 2009 and 2013, except the Marojejy.
Why April ? In the northeast Madagascar, the rainy season is usually finished in late March or April ; then, the dry season begins and begonias fruit, which develop just before, dry and empty seeds. Moreover, the dry season allows us to go up the streams because of less water.
Unfortunately, the elements have joined forces against us and this great schedule will be very affected by them !
North area : The Ankarana massif and Ambre Mountain
Eugène Goulam, our regular guide in this area, is waiting for us at the Diego Suarez (Antsirana) airport. The weather is fine with 27°C (81°F).
Stopping first for begonias before Ankarana in the « baobab site » between the river and a ditch brimming with water. This beautiful baobab tree had fallen and we wove our way through the branches to reach the spot where B. nossibea grows (photo 1)
; it takes over the slope just after the ditch (in 2009, we wrongly thought this species was B. françoisii). It is blooming and we see the deep pink flowers from a distance. Lower down, on the vertical bank of the river, we see many other but they were totally inaccessible because of too much water.
The following day we go north toward Ambre Mountain. This large volcanic massif is still covered by forests. Then a problem with the 4×4 : two flat tires ! Two hours lost for repairs ! So, we have time to watch Malagasy people in their daily activities : the market (photo 2), a taxi departure, a little  overload…(photos 3/4). Many smiles, no animosity.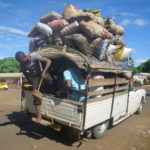 We drive in the Ambre Mountain park to Joffreville which was a garrison town during the colonial period. Here, the French soldiers came for resting high up and cold…A landslide doesn't let us reach the west part of the park (and I had two GPS search points there…for two begonias species !). We walk on the botanical path and find B. humbertii as an epiphytic one on a tree (photo 5), and another one, a saxicolous rhizomatous species with green pale and entire leaves (photo 6), near a waterfall (photo 7). The rain starts when you begin the picnic (of course !…)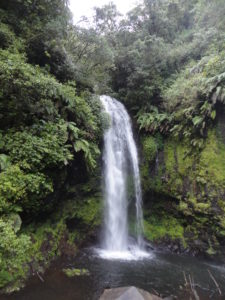 We remain Ankarana the next day. The goal is to find again B. razafinjohanyi (photo 8). This very nice and rare species had dicovered by Henri Laporte in 1998. The Keraudren-Aymonin flora (The Madagascar Flora / Begoniaceae) indicates it grows in "Ankarana du Nord". I knew Ankarana massif but no "Ankarana du Nord". I thought maybe there was another Ankarana massif ?,  I consulted a friend, Lucile Allorge, a botanist who knows Madagascar very well and works at the Paris National Museum : no, "Ankarana du Nord" is the part of Ankarana massif on the left of he Diego-Suarez road, and  Ankarana strictly speaking, is on the right of this road ! Easy !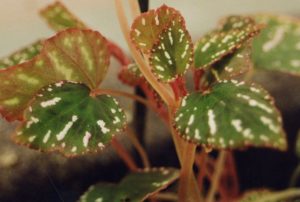 Eugène takes with us three men from his lodge with us to look after the 4×4 because of bandits…in this place, people look for gold and sapphire…so, it is dangerous, apparently…B. razafinjohanyi is a small begonia (dedicated to A. Razafinjohany, a Malagasy artist who illustrated many plants growingato the Tsimbazaza Botanical garden at Antananarivo) ; it is an endemic to "Anakarana du nord" where it grows near streams in tropophilic forest below 350 m ; it disappears in dry season and keeps only its tuber root in soil. We search for it but in vain. The Ankarana massif is a limestone plateau (very difficult to walk) in a hilly area with high limestone peaks called tsingy. I have a GPS point but we find anything. Gone ? Dormant ? Anyway ? Not begonia, and no bandit…
On the other hand, there is a splendid snake, a boa totally inoffensive (photo 9) and placid ; this nocturnal one sleeps all the day on a tree fork at one meter from the ground. And don't forget the chameleons (photo 10) are everywhere ; Madagascar is really the land of chameleons.
We are sorry about not staying longer in this area. The problem is always the same : we stay several days in an interesting place, or we visit several sites but too quickly…
In the afternoon, we enter the Ankarana (the true one…) to go to the "Bat cave" dug into limestone. On the adjacent cliff,  grows B. ankaranensis (photo 11) a small endemic tuberous species from Anakarana. A very nice place ! It is in full bloom. In 2013, I thought this begonia was B. sambiranensis (from the Sambirano, area where the river Sambirano river flows in the north-west of Madagascar) but this one is one-leaved, which is not the case of B. ankaranensis
I hope a GPS point from the Tropicos site will lead us to B. mananjebensis (photo 12) (from the  Mananjeba river who runs into the Mozambique Channel after crossing the north of Madagascar) near the course of the "Perte de rivière", a big a sinkhole, where the water in the rain season disappears.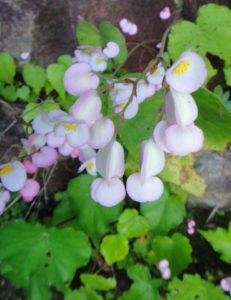 This time, the information was good and we find this nice tuberous begonia with palmatiform leaves, on lava that had covered the limestone tsingy during recent eruptions. It is still an endemic species of this area. It is going dormancy then and in the blossom end has with many fruits.
The next day, we again look for B. razafinjohanyi near Ambilobe, towards the south, near the Mahavay river, along a small stream already visited in  2013 ; the place is now built up with people and houses and sewage. The stream is very polluted ! No begonia here !
Again, we see B. nossibea (photo 13) on slopes and rocks along the river bank with flowers (the name nossibea comes from the Nosy Be island, a very touristy place on the west coast of Madagascar).
We are now ready for adventure, the famous Vohemar track…the impossible road…
The track for Vohemar, the road of the impossible !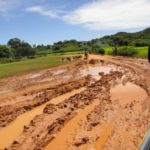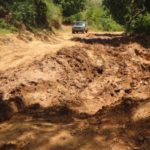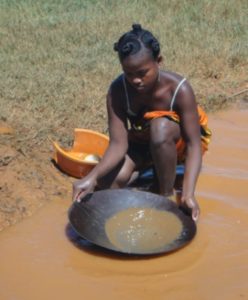 Ambilobe (on the Madagascar West coast) – Vohemar (on the east coast), 160 km, totally rutted. Incredible ! A succession of muddy potholes ! (photos 14/15) The repair of this track was planned two times but no labour available, and the money disapperared ! Of course, the companies who are responsible for transporting by sea between Tomasina (Tamatave) and Antsiranana (Diego-Suarez) for a long time, would not like a good road running between these two main towns !
We'll take two days to reach Vohemar : the first day, 10 hours for 100 km between Ambilbe and Daraina. If I count correctly, we average 10 km an hour (6 mph) ! The people of the villages, who are poor (some ones look for gold in rivers (photo 16)  and cunning, take advantage of the situation : "come here, take this way, it is good ! " : then you must pay and they open the gate for driving on a good crossing !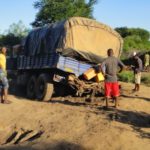 Fortunately, no rain during these two days and only a truck stuck in the mud (photo 17) ; it freed itself quickly ; some vehicles remain and block the way for two or three days before starting again ! Our driver, Joël, an experienced one, who drives a truck often on this track, avoids all the traps !
I have some GPS waypoints in Daraina area, but unfortunately, they are way too far the track, in the woody hills that we can see to the north. We would need of more time to look for begonias here. A perpetual problem !
East area : the Marojejy massif
We reach Sambava, the vanilla capital, in the evening of the second day. All expeditions to the Marojejy volcanic range, start from this town, by the Indian Ocean (photo 18). The Keraudren-Aymonin flora on Begonia, shows many begonias in this uneven area where forest is still preserved.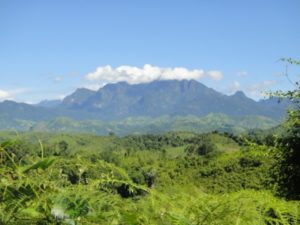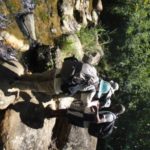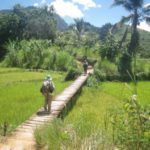 We go towards Andapa , buy some foods and do the formalities for entering the Park : entrance and stay fee, appointment of a guide (Désiré) and porters. It is cloudless and hot and it is 11 a.m. when we start, in full heat… ! We walk 2 km before finding forest and shadow (photos 19/20) ! We still have to climb 6 km until to reach the camp. A difficult day ! But we find our first begonia in a stream : B. nana (nana means dwarf). Many of them grow here (photos 21/22/23). Unfortunately, there are few flowers and no fruits on this tuberous begonia. The tuber hooks hard to rocks so the stream doesn't take it away in the rainy season.
We again find a nice boa sleeping on a tree fork. Don't worry, we'reonly passing…!
We arrive in evening at Camp Mantella. A nice camp but a compact one (photo 24) …we can recover, have a small bath and drink (only tea and water, no cool beer…and it will be the same for three days !) It's getting dark and we eat by candlelight. There is a rumble of thunder in the distance. A shower is welcome…and then, many frogs begin a concert (that will go on until daybreak). We end up seeing one, a minute one (2 cm) whom find by the sound (photo 25) ! How can such a small animal "sing" so loudly ?
We leave early in the morning towards camp n°2. No begonia near the path ! The camp is occupied by Dutch tourists. We continue searching on the path that leads to the camp n°3 and find B. lyallii var. pubescens, (photo 26) with a blade covered with sparsely straight and small hairs. Few flowers and some immature fruits, no doubt. As with all the B. lyallii var., this one is a creeping species (photo27). We sink most into the forest and near a stream and a waterfall, we find certainly the more beautiful begonia of Madagascar (photos 28/29). Perhaps it is B. betsimisaraka (from Betsimisrake, the name of the main ethnic group of north-eastern of Madagascar). A jewel ! But not any flower, no fruit ! This tuberous species grows on rocks and sometimes as an epiphyte on trunks. The blade is especially nice and ornamental with red spots and margin.
The following day, we walk again the same path and we stop before the Camp n°3. Too far and hard to get to. No begonia in this section, but Désiré shows us a fossil tree that would used by local druggists  for treating… 52 diseases !
Next time, I plan exploring Marojejy (photo 30) by another way : the official park tour takes a path and usually, we must not leave it. But the Keraudren treatise shows many begonias in this area and many interesting places, especially near the Lokoho river.
We return to Andapa where we must do exit formalities ! Eugène, our Ankarana guide who was here with us, is ill and must leave us now to find a boat for return to Antsirana.
We'll do not go to Makira forest !
We come back to Sambava in the evening.
And then, the problems happen !
I sum up : Day 1 : Sambava / Antsirana / Nossy Be / Antananarivo by plane. Day 2 : Antananarivo / Antalaha , where we stop over ; the plane goes on to Tamatave and we'll board again when it returns to Antalaha. It comes back and we are amazed to see that our luggage has been taken off the plane  because it is excess weight ! Instead of taking passengers in transit, as we are, they take the ones departing from Antalaha with their luggage ! Of course, we protest  ! Finally, after many talk, as it is late now, the plane takes off again towards Antananarivo without any passengers and we stay to Antalaha ! Day 3 : Antalaha to Sambava by a bus  and Sambava to Antananarivo by plane ! Day 4 : Antananarivo to Sainte Marie to Tamatave where  we have the same problem ! But this time we sit down in protest at the foot of the steps ! The pilot who is exasperated, makes a decision : they put again our luggage back, we get back aboard and at last, we take off towards Maroantsetra  where we land  at about 3 p.m. !!!
Four extra days ! And we have flown all over the north of Madagascar…
This waste of time forces us to cancel the expedition in the Makira forest where we had sheduled  five days from Maroantsetra, with Clément and Robert, our  usual guides.
What a disappointment !
Makira is a very large mountainous plateau where the primary forest is not still totally explored. But deforest is very serious here, especially near the Antongil Bay where there are many villages. We had begun the exploration of this area in 2009 and 2013 and we had found some very interesting and unknown begonias, a sign of nice discoveries to come.
This year, I planed to reach the primary forest, which is now  at 10 km from Vodiriana, the starting village ( ten years ago, the forest was near this village ! ) and then, etablish a camp in the edge of the forest for explorating around for several days. All was ready, guides and porters, but that was without planning the Air Madagascar troubles !
All right ! Think positively, we are at last to Maroantsetra and we can add a day for the Masoala expedition…
Maroantsetra, at last !
We land at Maroantsetra at about 4 pm on Sunday, April 5th. Clement, our usual guide in this area of Madagascar, meets us at the airport. A taxi ride to the Cocobeach Hostel where we find Denise, Clement's wife, who is our cook for our explorations.
Next day, we have a briefing at the Cocobeach with Seraphin who will go with us to Masoala because Clement is not free during this time. We draw up the supply list with Denise : food, water, chickens, bananas, charcoal, etc. The, a day rest and walking in the town to recover after the previous difficult days !
Clement and Seraphin get in touch a fisherman in Ambodiforaha, our first stop, in the middle, between Maroantsetra and Cap Masoala in the south of the peninsula. He'll take us in a very large pirogue (a long canoe) for the whole expedition. It is more expensive, but very surer than a regular boat…like the one we took in 2013 and who is always overloaded !
Unfortunately, we'll wait to start for two days because for the pirogue to come to Maroanstetra. More lost day !
So, we decide to go to Nosy Mangabe.
Nosy Mangabe island :
Nosy Mangabe is totally covered with forest ; the whole island is a fauna and flora reserve ; in 2009, only scientific searchers could come here. But in Madagascar, some sort of an arrangement can always be worked out…yes, we could land on the island. Now, the access is free… after passing the Angap office and paying the tax…Then there are negotiations with the owner of a small boat whhich will can take us and wait for us. The weather is fine and water is crystalline. It takes us half an hour to reach Nosy Mangabe (photo 31).
Let's go ! We find our first begonia : B.  erminea L'Héritier. This tuberous species grows here at a low altitude (less 50 m) and we encounter it very often (photo32) on rocks (gneiss), in the streams, and  sometimes as an epiphyte on tree trunks. The blade is varied, with a margin that's often red and with red spiniform hairs. Flowers and fruits are present also. On the other hand, we don't find another species that we found in 2009 in the same place.  Is really the same place ? In 2009, I didn't have a GPS device !
During our picnic, two White-headed lemurs (Eulemur fulvus albifrons) (photo 33) keep us company ;  they seem used to visitors and are waiting for bananas…
We explore a second path and again find many places with B. erminea and as well as a small and nice frog (photo 34). We leave this small heaven (photo 35) in the evening.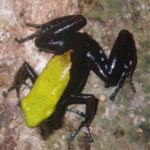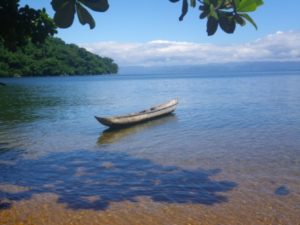 Masoala : near Ambodiforaha
Much rain during the night and many black clouds in the morning skies. We are waiting for the pirogue.
Depart from the Cocobeach about 7 a.m. in the rain…The two pirogue boatmen are experienced and we cross without a problem. It is raining but the sea is calm. We reach Masoala after 3 hours, at Ambodiforaha on the east shore of the Antongil Bay. We tay in two bungalows of Mrs. George. Simple but cosy…and we don't need our hammocks. No running water, no electricity, as usual…washing and toilets very primitive. We settle in and Denise prepares food.
Our first exploration in the afternoon. What a surprise ! It is April, and usually, April is in dry season ! I thought we'll have problems with the streams !  Correct ! It is impossible to go up them as we usually do, half in the water, half on the rocks ! The  Ambodiforaha River is now a furious torrent ! However, we find two interesting begonias but no flowers, nor any mature fruit ! The first species (photos 36)  is perhaps B. nana L'Héritier, with entire and somewhat succulent leaves, not lobed as the one we saw in Marojejy ; the other one (photos 37)  is an unknown species we found in 2013 with a very attractive leaf, lanceolate with red margin, spots and spine-like hairs. These two species are tuberous and the tuber is hard attached on rocks and it cannot be swept because of the swellings.
We must follow the stream at a distance, and of course, at a distance from the begonias ! We walk along the left bank and we hope to reach the river. That's mpossible because of very slippery vertical slopes. We find a path which leads to a farm and an area where trees have been cut down ! We are still near the Masoala Park border ! The deforestation has gotten worse since 2013 !
We get closer the stream and miraculously, I find Begonia masoalaensis, recently described by Mark Hugues (photo 38).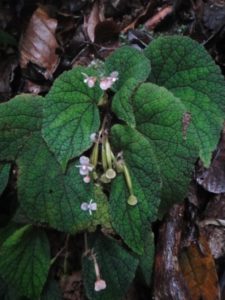 This very nice tuberous one has an amazing habit, grows in shady places, on vertically sloped earth and that is strange : usually, tuberous begonias grow on rocks ; the leaves are flattened to the slope ; staminate and pistillate flowers are present but the fruits are not mature. The fusiform fruits are like those of the African begonias of the Tetraphila section. Maybe this species is a transition between Africa species (Mozambique is "near") and Madagascar species ? An expedition to Mozambique would give answer ? Another day, perhaps…
Yet more big showers in the night. Today we go to the Tampolo River, south of Ambodiforaha. We cross a coastal Pandanus forest where we can see a superb bird Euryceros prevostii. We visit a rocky area and find the one and only begonia of the day ! It seems to B. nana (photo 39) with a succulent blade, in full sun (when there is sun ! )  but the blade is wider than that of the similar species we found yesterday. We arrive at an enormous waterfall. Impossible to cross ! Too much water ! So, we have a picnic… and we look at the rocks with binoculars : no begonias but some orchids (Cynorchis) in blossom. We try walk around the waterfall through the forest, but it is very difficult because of the vegetal jumble of prickles, wasps and slope. We only find another deforested area and now we are in the Park !!
Still another rainy night ! Today, wecome back on the Ambodiforaha River but on right bank. This time, the path is a tourist one, a part of the Varygnana tour. We are the lone tourists…
We find a nice patch of B. masoalaensis about 1 km from the sea and at an altitude of 70 m. Many ones have a pale green blade. And we again find the species with lanceolate blades we had seen yesterday, on the rocks of a small and quiet stream.
Near Ambanizana :
In the afternoon, we leave Ambodiforaha towards Ambanizana, to the north. The sea is quiet and skies are clear. We reach the village after one hour at sea. Today, we stay in a bungalow of the Mrs George's daughter. We must set up mosquito nets above the beds. Here, there is no shower room and no toilets ! Only the river and the …
We start early on morning ; the pirogue carries us 4 km to the south for rediscover a very rare species, Begonia henrilaportei, With a botanist friend, we have just finished describing this begonia dedicated to Henri Laporte who discovered it in 1998 (photo 40). It grows on damp rocks near the sea at an altitude of 25 m. We can see about 15 plants, but no flower, nor any fruit ! :Moreover, this species is quite endangered because rocks are on a busy path between Ambanizana and Ambodiforaha. We even have seen zebus (a type of cattle) ! With our guide Seraphin, we explore in vain the surrounding area and upstream. Does B. henrilaportei grow only here ? But, only 50 m above, we find a rice plantation  ! We are still in the Masoala Park !
We turn back towards Ambanizana  and we wade up several small rivers we cross. We see B.  lyallii var. lyallii, and a small tuberous species (photo 41) that grows on vertical damp and shady rocks : a jewel with some flowers, perhaps B. keraudrenae Bosser.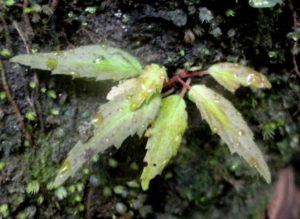 We end the day as all the people of the village do : a very pleasant wash in the river…
The Ambilosy area
After the usual rainy night, the pirogue boatmen take us to Ambilosy, a small village one hour to the morth. We had planed staying two days in this place but the bad weather dissuades us from setting up the hammocks outside. Additionally, the captain thinks that because of the unfavourable wind, it would be better to return to Maroanstetra after the exploration.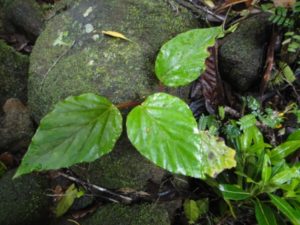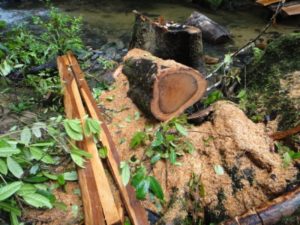 We look for the path we used in 2013 but we don't find it. So, we ask to the villagers : "where is the path that runs along the river ?" "Tsy misy" (there is not a path ! ). Very strange ! I have a Way Point of the site where we found, in 2013, five begonias species. We start towards the east, through the forest with the machete, then towards south and we find again the place. What a pity ! The big rock where begonias grow is still here, and the begonias too (photos 42/43/44),  but on the left, a big tree is down and cut up into lumber (photo 45) while on the right, we see another rice plantation ! More light and less hygrometry : there is no hope for these begonias !  3 are unknown ; the other two are B. masoalaensis and a form of B. lyallii.
Back at the village, Denise waits for us and cooks a noodle soup. We come back to Maroantsetra greatly vexed… We can not stay longer to Masoala because we must catch the plane. A day's rest will be the best for us !
We are already thinking of the our return…
We come back the next day to Antananarivo. We have three days before flying back to Paris. We devote a morning to visit the Herbarium of the Tsimbazaza Botanical Garden. The dried plants collection is in bad condition, they haven't got the means to maintain it. We know all the species that are preserved in the herbarium but, none of the unknown species we found are present.
In the afternoon, we start for Vohimena Reserve, halfway between Antananarivo and Toamasina (ex Tamatave). What a disappointment ! Not a begonia in the place. Yet, the site seems very favourable to begonias because of river, gorge, rocks, forest and tropical atmosphere. On the  other hand, a nocturnal walk allows us to see many small, nice, multicolored and noisy frogs (photo 46)… and a wonderful butterfly, the famous Urania (Chrysiridia ripheus) (photo 47) at rest for the night, and its caterpillar as colored as the adult.
With the rain, the Air Madagascar problems, the very serious deforestation, we ask ourselves if we should plan another trip to Madagascar. Many problems this year !
Think positively ! We absolutely must explore the Makira forest…so, we'll go to Madagascar again… I love Madagascar…
This time, we found about 20 begonias species of which 8 are unknown very rare ones. A big work for describing waits for me I…
Acknowledgements : Many thanks to the American Begonia Society, the ABS Branches (Sacramento Br, , Potomac Br.), all the ABS members, Dr. Yu-Min Shui of Kunming (Yunnan) University, Australian and Japan friends who helped me : this travel was made possible by their generous financial support.