Travel in Columbia : January 25 th / February 17 th
by Jacky Duruisseau
(photos by Colette Bridon, Chantal and Jean-Louis Béreau and Jacky Duruisseau)
When we talked about your next begonias-travel in Colombia, our friends and family were unanimous :
• Are you crazy ? and Farc ? and drug dealers ? and Zika ? Are you not afraid ?
• OK, please, save money…for the ransom…
When we submit our schedule (fixed from GPS points) to our guide, Xavier (Ecuadorian, French people of origin with which we had two travels in Ecuador), he answered us : no problem, we cut out only two risk-areas and it is OK for all the rest !
In fact, we had a very safe and nice travel, in a pleasant and lovable country, where people are very kind, welcoming and warm. Not any problem, not any trouble. Everywhere, we met many people ready to help us and even, to go with us.
At last, because of the unrest who troubled Colombia for half a century, few botanists ventured in this area since many years ago ; so we hoped to find again the species of the Flora of Colombia by Lyman-Smith and Schubert (in 1946 ! ) and have nice and new discoveries.
However, some problems for searching begonias !
First, we were in January-February, the dry season, but too dry this year (because of El Niño ? ) and some begonias had fruits (and seeds) but not any a leaf. So, we'll must sow for identify them !
Second, in Colombia as many other areas, deforestation is very serious (and old) ; many fields under cultivation (coffee, avocado and fruit trees, sugar cane, etc) have replaced the forests and so, they are difficult acceding to : we find some remnants on top of the mountains, in reserves of course, or often, to the end of interminable trails.
An example : for going to the Orchideas Reserve in central cordillera (where grow some species of the Gobenia section), we would have 5 hours by mule and 7 walking hours ! So, a day for going, a day for searching and a day for coming back ! And how many weeks for restoring the back after 5 + 5 = 10 hours for people who have never been horseriding…We must have a three months travel, not a three weeks one ! You'll need come again in Colombia…
We had about 20 GPS spots for begonias. Unfortunately, most of them were bad and led us to places where, maybe, begonias grown many years ago, but now with housings or fields, without any begonia.
An example : we had a spot for Begonia lutea (a tuberous species who grows in forests on damp rocks) in Villavicensio area : the GPS spot led us on the airport road in a field where horses grazed !
More, when the GPS gives a spot to 1,5 mile, it is as the crow flies…and in fact, we must walk 3 miles for finding the spot and in forest or in mountain, it is enormous !
Right ! Be positive ! We found about 20 begonias species. Some ones grow at an altitude of about 9,000 / 11,500 feet !
Colombia is a country two times as big France and we visited a small part ! Our travel took place in eastern Andes cordillera where we arrived to on January 25th close to Bogota, and in the central one, close to Medellin where we left from, on February 17 th.
Around Bogota : the eastern Andes cordillera
We begin the exploration in south-east of Bogota, in the oriental cordillera, near Quetame : Begonia novogranatae is a tuberous species who grows on a high and sheer slope, near the Rio Negro. Is this plant in dormancy and so without leaf ? Is it perched at the top of the mountain and out-of-reach from the road ? We cannot get it !
On the other hand, lower, at the confluence of the Rio Negro and ts tributary, the Rio Contador, we find our first begonia, with fruits at the top of dry stems without any leaf ; we can harvest some seeds (photo 1) and we'll must sow for identifying…later.
On the track who leads to Guitierrez, in an uninhabited, mountainous area with still forests, we meet Begonia meridensis (photo 2) ; few leaves too.
We finish searching this day in a field on the Villacencio airport road : Begonia lutea doesn't grow yet here, since a long time…
The next exploration is planned in Macarena who presents a distinctive feature : this range who rises in a very level area, the Llanos, is perpendicular to the Colombian cordilleras. When we approach these mountains, we can see a waterfall ; certainly we'll find many begonias in these place…although we have no GPS point for the area. But, how are we going to reach from Maracaibo, the last village before mountains who are still far ? A young motorcyclist suggests us following him through ploughed fields and he opens and closes after the 4×4 gets in through the fences. The waterfall is very nice (photo 3), but not any begonia, neither in the river who runs from ! However, conditions are good : warm, hygrometry, rocks ! Where are they ? Jean-Louis finds one at last, in a damp ditch when we come back : Begonia fischeri, a very common one ! What a pity ! We console ourselves with a fresh beer in the motocyclist's village with kind inhabitants.
The next day, a WP is supposed lead us to Begonia macra who grows on rocks in an open milieu ; we find the spot with many rocks and many houses …but not any begonia !
We change biotope completely in Sumapaz paramo with Espeltia, on the west side of the same cordillera ; we have another WP, near a farm, in the edge of forest remnants, on the top of small mountains. We are at an altitude of 10200 feet. And here, after get over barbwires (it is very frequent in Colombia because of many fields with cattle), what a surprise ! We find Begonia ferruginea (photos 4/5/6/7) in blossom ! Wonderful ! This amazing sarmentous species grows in thickets on the edge and can have 10 / 15 feet high ; the unisexual inflorescences have each about 10 red flowers, color we can see too on stems and underside of young leaves ; fruits are present .
With it, in dark and less accessible thickets, we find a species of the same section Casparaya, Begonia urticae. We met it in Ecuador and this one have pink flowers (usually red).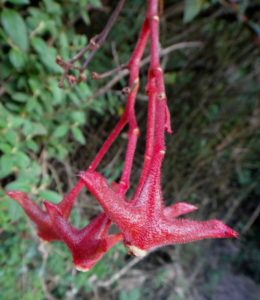 What a nice day !
On January 30th we drive in west around Bogota for botanizing near the Tequedama drop (photo 8), very nice waterfall on a river, unfortunately totally polluted and covered with a white industrial moss, and the banks so ! The road snakes above the river and forest remnants are present on slopes on left of the road. We find the first species of the Gobenia section, identified by Mark Tebbitt as Begonia sodiroi (photo 9) ; this creeping one climbs on shrubs until 2 meters high.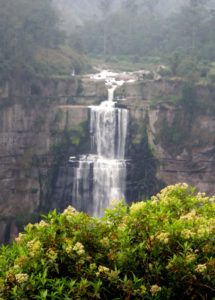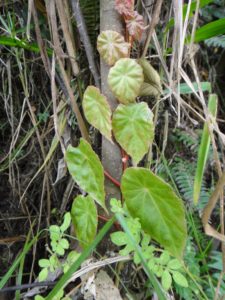 The next day, we go up the Tablazo paramo and find again Begonia sodiroi in many places at an altitude of 8,000 feet : it climbs on trees and fences stakes. Unfortunately, we see only one young inflorescence (photos 10/11).
We look after Begonia cornuta in vain with a wrong WP and the one who is supposed lead us to Begonia dugandiana is too far and we renounce. These two begonias will keep unknown for us…
We leave now the eastern cordillera, cross the Rio Magdalena dried up and we explore the eastern side of the central cordillera for approaching the Nevado del Ruiz ; we heard of this volcano in 1985 because of its eruption who caused many victims by lahars, mud torrents. To-day, we can see a pillar of smoke, inoffensive from…far ! We finish this day with finding Begonia magdalenae who looks like Begonia consobrina, because of the same leaves (photo 12). We arrive to the Termales del Ruiz hostal at an altitude of 13,000 feet and it is cold in spite of a very hot spring just behind the hostal…
We leave the hostal early the next day and try approach the volcano. After one km on the track, we find the second amazing species of this trip : Begonia umbellata (photos 13) another species of the Casparaya section in full blossom with red flowers. We are at an altitude of 11,500 feet ! it is an herbaceous begonia, about one meter high, with very hairy leaves and bisexual inflorescences. But it is earlier and fruits are not mature. In the same place, we meet also Begonia urticae.
A trail leads us to the volcano foot in a paramo with Espeltia (photos 14) and it seems we are to the back of beyond…in a very amazing landscape (photos 15).
We arrive on evening to the Rio Blanco ornithological reserve where we stay two days.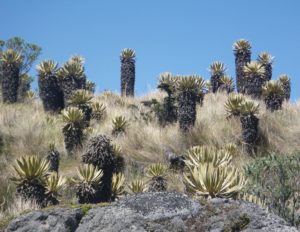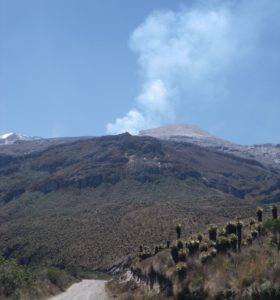 The Rio Blanco Reserve in the central cordillera :
This reserve is an ornithological one where many birds lovers and scientific come. We can especially observe several Graella species, of the Jocotoco 's family we had seen to Tapichalaca in Ecuador, Crested Quetzal (Pharomachrus antisianus), Crimson-manteled Woodpecker (Colaptes rivolii) and Crested Caracara (Caracara cheriway). The reserve is totally forested and we hope we'll can find many …begonias. We are in a mountains area at an altitude of about 8,000 feet.
We start looking for them first thing in the morning and it was not long coming ! We find Begonia maurandiae (photos 16/17/18). This ground one is a creeper and it is everywhere ! On slopes and rocks covered with it, on trees where it where it climbs until 10 feet ; in many places and this plant is very luxuriant. The leaves are almost symmetrical, often cordate, rarely peltate, with a more or less dentate ciliate margin. Unfortunately, it is too early for seeing flowers : we'll see only one inflorescence on a branch, at 10 feet from ground. Of course, not any fruit and not any seed !
In all the reserve, this begonia grows with Begonia urticae with red flowers and some Begonia magdalenae.
The Ucumari Park :
After two days to Rio Blanco, we drive westwards then, northwards by Manizales and Pereira. We take a track who must lead us to Otún Quimbaya. We have gone down and it is warmer.
The track snakes along a river bordered by a damp and high slope, with rocks and vegetation where we find Begonia holtonis (photos 19/20). I grew this one for a long time and see it in its natural environment is very amazing ! It holds the slope and bushes and can have 15 or 20 feet high ! Very different than the growing in a pot ! More, it is in blossom ; fruits of the last season are present ! Very nice place ! We'll see it many times in this area. We meet again Begonia magdalenae but less frequent.
We arrive on evening to the Otún Quimbaya lodge, a very nice one and we start do a reconnaissance on the track in the well preserved forest. But a big storm forces us to come back the lodge without news discoveries
We start early in morning on the track towards the Ucumari Park. We leave the 4×4 and continue on a path. In the forest edge we can see Begonia magdalenae, Begonia urticae with white flowers, and many places with Begonia holtonis always exuberant. It seems really we are at the ends of the earth when we meet a rider who is going into the town for selling cheeses (photos 21). We have planed reach a WP for Begonia maurandiae but when we must come back, the GPS shows we are at 1,500 mile as the crow flies ! It is too late for continue, especially it is raining.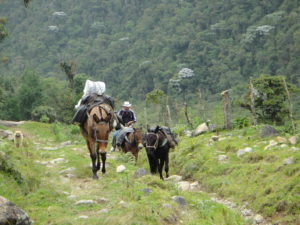 On evening, in the lodge, we have a Golden-plumed parakeet (Leptosittaca branickii) concert and on next morning, Venezuelan Red Howler (Alouatta seniculus) wake us…
Towards the Antioquia Province :
We go again northwards to Antioquia province and stop to Salento a very touristic town. Change of scene ! What a great animation in the town ! Especially on the Plaza : many restaurants very noisy, Willys, old jeeps (photo 22) for driving tourists ; many many walkers in the streets, musicians, singers, strollers…Tourists go (in Willys) in the Cocora valley : the area was deforested for a long time but they kept only the Quindio Wax Palm (Ceroxylon quindiuense) (photo 23) and the place has now an artificial but amazing air. In the remnant forest along the river, not any begonia but only a Fuchsia (photo 24) of which flowers have extraordinary colors.It would be a very rare species !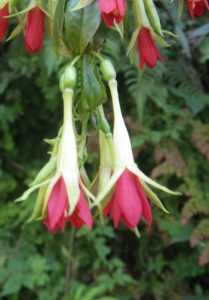 We still go down and reach a very dry and warm area. On the track towards Jardin, our next stop, we see again Begonia holtonis and Begonia urticae. We meet the Andean Cock-of-the-rock (Rupicola peruvianus), an amazing bird black and red : the cock ones indulge in a strange cries concert for drawing female ones !
The next exploration leads us in a interesting place, the Hacienda Agualinda, where we meet a kind people who lends to us one of his worker for visiting a little known forested area. We cross the river on a very impressive and very rocking suspension bridge (photo 25). We reach the forest and find a begonia (photo 26). We don't know it and Mark Tebbitt thinks it would be a Begonia foliosa form : it is 50 cm high, with large leaves and grows on a shady slope ; flowers are white and, actually, recall the Begonia foliosa ones. We will find it only in this place.
We make for the more northen place of our Colombia trip. On a slope on edge of the road, a begonia ! It is Begonia sericoneura (photo 27) in dormancy and who just starts again. Not any flower but many fruits. This species is rather from Central America and here, we are to the southern limit of its distribution area.
We arrive to Urrao, to the Los Araucarias lodge. We start immediatly eastwards : I have a GPS point for Begonia maurandiae. After crossing the torrent with difficulty, we have access to the edge of the forest of the top of a small mountain : the WP is at only 900 feet. But without a machete, it is impossible to join this place : the forest is too thick and too sloping ! We bandon but we find Begonia foliosa a little more far.
We try another place on next day and we find a begonia unknown. About ten plants in a similar biotope to the yesterday one : forest at the top of a mountain. This begonia, as Begonia sericoneura, is just starting again : erect stems grow from a woody old ones with some young inflorescences (photos 28/29). According Mark Tebbitt, it would be Begonia fagopyroides but without flowers, it is difficult to be sure.
Itis from Urrao that we have planed to go to Las Orquideas Reserve…but after 5 hours by mule and 7 walking hours…
We leave this area by a track towards Medellin and we discover a very nice place with Begonia sodiroi. Many ones near a waterfall and wonderful inflorescences, completely unusual ones who grow on a parapet bridge (photos 30/31) ! But it is too early for find fruits. We are at an altitude of 8,000 feet where all the species of the Gobenia section grow. Vet nice species !
When we leave, we are lucky enough for visiting an artisanal brown sugar factory. People welcome us very kindly and we can see the way for extracting the cane sugar juce and make molasses. We leave with two brown sugar bares…
Last discoveries in the Medellin area :
We arrive to our last lodge in the north of Medellin, in the Chesnut Reserve ; it is, as the Rio Blanco one, an ornithological reserve. The track is very dusty and all the plants on the edge is …white ! We'll find only a species in this reserve who is in the "Cloudy forest", at an altitude of 8,000 feet : Begonia buddleiifolia near a stream. But after the rain in night, the vegetation is clean now…and we see better the plants ! So we find an interesting species, went unnoticed yesterday. Still a begonia with leaves as the Begonia consobrina ones ! The only thing who makes the difference is the flowers, especially the male ones with very strange and long stamens (photos 32/33)., hence its name Begonia extensa, identified by Mark Tebbitt.
It will be our last begonia. Twenty species and the seeds of about ten ones. We must come back here…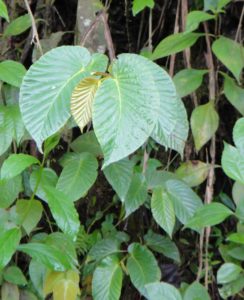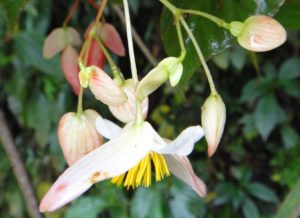 Aknowledgements :
Many many thanks to the American Begonia Society for the financial help she grants to me for each of my begonias trips, thank you to the ABS members for their generous contribution : Carol Notaras, Eric Hirsch, Bob Hamm, Johanna Zinn, Joan Campbell, Norman Dufresne and the Buxton Branch. Thank you too to Antoon Hoffnagels from Netherland. How can have I this trip without you ?
At last, thanks so much to Mark Tebbitt for his help for identifying the species from the pictures I sent to him.